Marnie MacLean Designs: Patterns:
Baby Boa and Cuff
Baby Boa and Cuff
Return To Patterns
Back
Copyright Marnie MacLean 2003
Click on Images for Larger View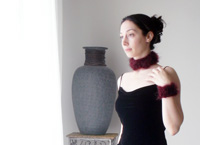 Designed by Marnie MacLean especially for ArtFibers in San Francisco
Starry Night is a furry yarn with sparkle. What girl wouldn't want to feel sexy and fabulous at the same time? This is a project you can do in an evening and still be able to go out afterwards to show off your work. I think you'll be surprised how warm these little guys can be as well. It's like wearing a scarf without any excess to deal with. I think that means these are practical to boot. Make some for your grandma and see what she thinks.
Gauge:
It's a little hard to tell since you can't see the stitches. 10 stitches is about 2.25" on #10.5 needles
Supplies:
#10.5 knitting needles
Less than 1 skein of Starry night in color of choice
.24" silk ribbon in color of choice (purchased at local craft store)
Yarn Substitution
Starry night is a very thick a luxurious eyelash yarn with it's own bit of sparkle. Substitute another eyelash yarn, doubling it if necessary to achieve a very dense result.
Stitches used:
Pattern
Pattern written for choker with directions for wrist cuffs in parenthesis ().
CO 10 (10) st
Row 1: K
Row 2: K1, *YO, K2tog* to last st, K1
Row 3: K
Repeat Row 3 for 11" (5.5")
Repeat row 2
Next row: K
BO and weave in ends
Finishing
Cut a couple feet of ribbon and lace through YO holes at either end of choker and wrist cuffs. Trim as needed. I found that I did not need to tie and untie cuffs since I could fit it, fastened, over my hand, but the choker needs to be laced and unlaced to be put on, so keep that in mind when trimming ends.