I put a lot more time into planning my wedding shawl than I did my actual wedding and to be honest, that's not saying much because my wedding planning amounted to sending an email to my closest family, booking a hotel room, getting a license and hoping for the best. If only knitwear design were so easy. Though, to be fair, I find designing pretty fun but would be entirely content to never plan another wedding.
So to start, I pulled out my entire collection of stitch dictionaries looking for motifs to pair together. I didn't have a strong sense for what I wanted but I knew I wanted to take what I learned from designing La Cumparsita and expand on it, making a project that had more details, and a strongly scalloped hem. I ended up choosing only a single motif and scaling it up and down to form three versions, a border and transitions between each.
At the same time, I started to think about yarn. I wasn't sure what I was going to be wearing but I thought red might be pretty so I ordered three Grafton Batts from Amy.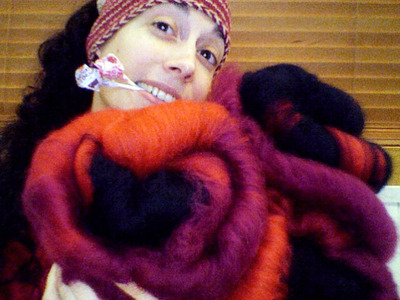 sweet batts are sweeter with candy
It was a little challenging but I did my best to work all three batts as one to maintaining the color transitions these batts are so well known for.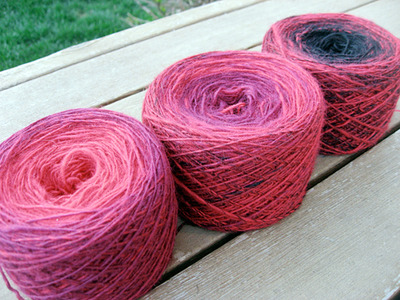 I ended up with about 1100 yards of rich glorious fingering/sport weight singles and began the swatching and knitting and charting and calculating. I was cranking along and doing great until I actually decided to start looking at dresses.
I suppose this my have been an acceptable reason to consider a white or ivory dress, but as I am already a brilliant shade of "fish belly" and since *ahem* the symbolism associated with wearing white most certainly wouldn't apply to me, I was determined to wear some other color and some other color I found. It just turns out that blue-green doesn't actually go terribly well with red and burgundy.

so sad, don't let the door hit you on the way out
At this point, spinning another 1000 yards or so of fiber just wasn't going to be an option, but I had some purple Handmaiden Seasilk burning a hole in my stash that was more than up to the task.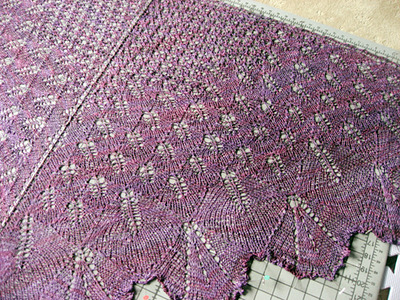 The final shawl is incredibly delicate and actually snagged quite dramatically right before the wedding. But really, what's a wedding without at least one moment of panic? The fibers smoothed out as easily as they snagged, but it was clear to me that this would always be a special occasion sort of wrap, not one to to throw around my neck before heading out to the city.
When Kate asked me if I'd like to publish the pattern in Twist Collective, I jumped at the chance. Instead of the delicate seasilk we decided to go for two uniquely different yarns and offer two variations of the pattern.
The green version is worked in Sundara Sock. The lace has larger expanses of stockinette for a warmer, denser feel. This is the version I'd use as my all purpose, scarf/wrap on chilly winter days. It's washable, strong, tightly spun and the colors are rich, yet it unfurls into a beautiful shawl that looks great wrapped around your shoulders while you are out on a dinner date.
The violet version is more true to the original, and worked in Sundara Silky Merino which offers the drape and sheen of the prototype with a little of that merino resiliency I love so much. The more delicate and open version of the lace pattern makes it a great option to wear for more formal occasions, but it's not so delicate that you'd be afraid to put it to good use.
It was really a fun design to come up with and as someone who knit the pattern twice (I did hire a sample knitter to knit the third one) I found it really enjoyable too. This may have something to do with my fond feelings for the whole project but I do hope that others will find it equally enjoyable. If you are interested in knitting Tolovana, you can get it here. And of course, don't forget to check out all the other beautiful patterns available at Twist Collective.