Chapeau Marnier
Copyright Marnie MacLean 2007
Pattern available through Knitty
This simply little hat is knit in sock weight yarn so it won't be too warm to wear when there's just a little chill in the air. In Portland Oregon, it rarely gets cold enough to war net something much heavier. The ribbon could certainly be left off or worked without a bow, to make it a touch less girly.
The pattern at knitty has the instructions for working the ribbon loops on the dark hat. If you'd like to work the ribbon loops as shown on the green hat, please use the charts below. You can click the chart to download a printable PDF.
Alternate loops
Follow the instructions up through row 15. Substitute rows 16 through 25 in the Knitty pattern, for the chart to the right.
Have any questions or problems? Just click that "CONTACT" button at the top of page. I'll try to get back to you as quickly as possible.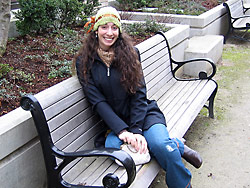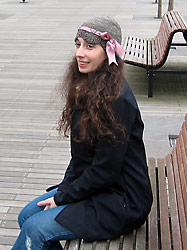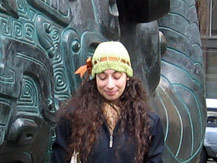 Get the full pattern here.
Because of the nature of PDF downloads, I cannot offer refunds for purchases. Please let me know if you have any questions or concerns before you buy. I want to make sure you only buy a pattern you really want. Thank you so much.
You are welcome to use these patterns for your own personal, non-commercial or charitable use. If you wish to sell items made from these patterns or teach classes using my patterns, please contact me. Please do not distribute this pattern in print or electronically or post this pattern to your own site or publication.