Copyright Marnie MacLean 2003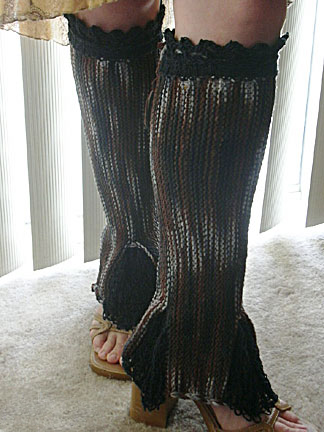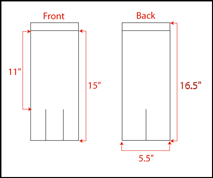 Materials:
All yarns from Artfibers in San Francisco
2 skeins of Ballet or Smoothie in color of choice
1 skein of Venus in color of choice
Knitting Needles - #10.5 & #8 straight and #5 dpn
Crochet Hook - G
This pattern is pretty stretchy so it should fit Small to Medium sized legs. For larger sizes, just add 2 or 4 rows to each section, or use a larger needle. You do not want them to be too loose or they don't conform to your sexy legs.


Yarn substitution
Ballet and Smoothie are both microfiber yarns. A nice substitution would be Rowan Calmer
Venus is a linen ribbon yarn but could be substituted with just about any light worsted weight yarn. I used Stacy Charles Tahki Cotton.
Leg Warmer/Main Section
13 st/18 rows=3" on size #10.5

CO 65 st
Rows 1-11: Work in rev ST st (reverse stockinette stitch)
Row 12: BO 18 st. Work remaining st to end.
Row 13: Work to end of row and CO 18 stitches
*Work 22 rows in rev ST st
BO 18 st Work remaining st to end
Work to end of row and CO 18 st* (row 37)
Repeat from *-* one more time
Repeat Rows 1-11 one more time
BO
Sew together the back seam (These will be the CO and BO rows)
Rinse and Repeat for the second leg warmer.

Lace Insets
Begin Lace (you'll need 6 of these)
CO 31 (or multiples of 3+1 if you want more or less lace) on the size 8 needles with Venus yarn
Row 1: K1, *P2, K1* repeat *-* to end
Row 1: P1, *K2, P1* repeat *-* to end
Repeat these 2 rows for a total of 16 rows
Row 17: K1, *drop 1 stitch off needle, P1, K1*to end
Row 18 & 20: *P1, K1* to end
Row 19: *K1, P1* to end
Row 21: P2 tog, *K1, P1,* to last 2 stitches K2 tog
Row 22: P1, K1 to end
Repeat rows 21-22 three more times for a total of 28 rows
Row 29: *K2tog, P2tog* to end
BO
Use tail to gather this end to a point.
Sew an inset into each opening, starting from the base on each side and working all excess fabric up at the top of the opening.

Ribbing and Lace Bind Off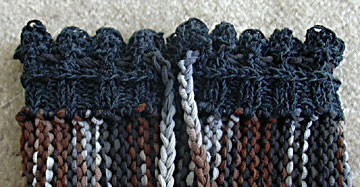 Pick up 72 st around the top of leg warmer on #5 dpn with Venus
*K2, P2* for 6 rows

Lace Bind Off
With the same needles and yarn, work lace BO from Jacqueline Fee's "Sweater Workshop" book
Two Notes: all EVEN rows will BO one of the ribbing stitches at the end of row, otherwise, you are working the extra 5 stitches that you CO at the start.
In all rows that you do a P1 you are picking up the second wrap of the previous YO2. Be very careful NOT TO DROP THAT WRAP, it will seem like you should.
CO 5 stitches
Row 1: (wrong side): Slip1, K1, YO2, K2 tog, K1. Turn
Row 2: Slip1, K2, P1, K1, K2tog. (BO of 1 Rib st). Turn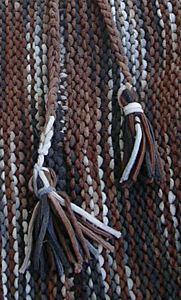 Row 3: Slip1, K3, YO2, K2. Turn
Row 4: Slip 1, K2, P1, K3, K2tog. (BO of 1 Rib st). Turn
Row 5: Slip1, K1, YO2, K2tog K4. Turn
Row 6: Slip1, K5, P1, K1, K2tog. (BO of 1 Rib st). Turn
Row 7: Slip1, K8. Turn
Row 8: BO4, K3, K2tog. (BO of 1 Rib st). Turn
Repeat rows 1-8 to end. On the last row (When you have less than 4 original rib stitches left on a Row 7, simply cast off all remaining stitches.)

With Crochet hook and Ballet yarn, crochet a chain long enough to go around your calf and tie in a bow. Leave a 8" tail at both ends. Weave the chain through the lowest row of eyelets from the lace BO you just did.
Attach small tassels made of ballet or beads or buttons or whatever.

Weave in all loose ends

Wear and feel Totally Cool to the MAX! Now all you need is some blue lipstick and some big earrings.

Thank you so much for your interest in my patterns. Most of my free patterns were efforts to learn to design and do not conform to industry standards for sizing or terminology. Enough people continue to knit from these designs that I am happy to leave these patterns up for people to use but I cannot offer any amendments or substantial support for them.
As with all my patterns, you are welcome to use these patterns for your own personal, non-commercial or charitable use. If you wish to sell items made from these patterns or teach classes using my patterns, please contact me. Please do not distribute this pattern in print or electronically or post this pattern to your own site or publication. If you wish to share this pattern, please send the person a link to my site.