Crime of Fashion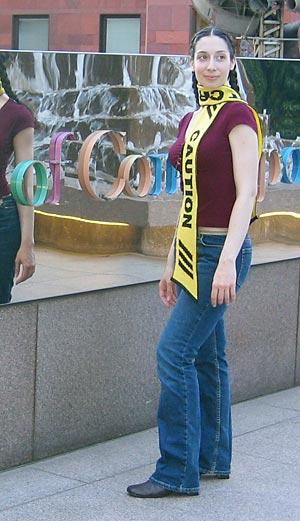 Requires Rowan Cotton Glace Yarn in Yellow (813) and Black (727) or a similar sport weight yarn.
Pattern offers an all knit and a knit and sew version.
All knit requires
3.5 balls of the main color and 1 ball of the contrasting color
Knit and Sew requires
1.5 balls of the main color and 1 ball of the contrasting color
plus, fleece to back the scarf, bias tape and piping, plus sewing supplies.

The original pattern appeared in MagKnits where it was offered with charts for the alphabet and a couple of extra symbols. Now that I am reissuing the pattern, I've recreated and expanded all the charts to be cleaner, easier to read and compatible with color or B&W printers.

Work the pattern as shown or use the charts to create your own design. Knit out your blog URL, or the name of your favorite sports team. Change the colors, to those of your alma mater, or just knit something that matches your favorite coat. You can even use the actual sized graph paper at the end, to chart your own design. The graph paper is the same gauge listed for the pattern, so you can draw anything you like. Your only limitation is your imagination.

Comes with the original pattern chart plus 48 numbers, letters and symbols and to scale graph paper for you to use.
Because of the nature of PDF downloads, I cannot offer refunds for purchases. Please let me know if you have any questions or concerns before you buy. I want to make sure you only buy a pattern you really want. Thank you so much.
You are welcome to use these patterns for your own personal, non-commercial or charitable use. If you wish to sell items made from these patterns or teach classes using my patterns, please contact me. Please do not distribute this pattern in print or electronically or post this pattern to your own site or publication.