Copyright Marnie MacLean 2003
Click on Images for Larger View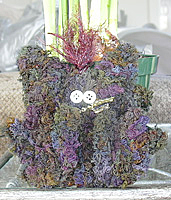 Gauge:
Sinbad: 25st and 20 rows =4" in garter stitch
Supplies:
#10.5 needles
1 ball of sinbad in color of choice
Buttons for eyes
Scraps of yarn for decoration
Size I crochet hook
Stitches used:
Knit:
Crochet:
Chain (CH)
Single Crochet (SC)
Purse
CO 25 stitches in Sinbad
K every row for 8 inches or until twice as long as you'd like the final purse to be (minus ears)
BO
You now have a rectangle that is 4" x 8"
Ears
PU 5 stitches from outer edge of one 4" side.
Row 1: (Working from center, out) K
Row 2: K
Row 3: Dec 1, K to end
Row 4: K
Repeat Rows 3 & 4 until you have 2 stitches left
BO
Repeat for other ear but in reverse.
Feet
CO 8
Row 1: K
Row 2: BO 2, K to end
Row 3: K
Row 4: CO 2, K to end
Row 5: K
Row 6: BO 2, K to end
Row 7: K
Row 8: CO 2 K to end
BO
Repeat one more time to make second foot.
Assembly
I recommend decorating the purse before sewing it up, since it's easier to work this way.
I used a couple lengths of Starry Night (See Baby Boa pattern for more uses for this yarn) for the hair, and Baccarat for the nose.
Take several lengths of Starry Night or other fur yarn and attach like fringe.
Sew buttons on for eyes
Thread Baccarat under eyes and tie in a knot in front to make nose and whiskers
Sew feet onto front
Fold piece in half with ears extending above. See schematic above. With crochet hook, SC up one side seam to close, from bottom to top. When you reach the top, CH 30 and then begin down the other side. Cut tail and pull through last loop.
Sew in all tails.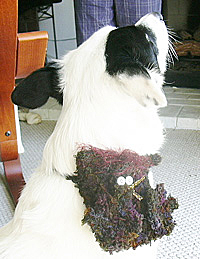 Yes it's true, even panda thinks this is a great accessory.
Thank you so much for your interest in my patterns. Most of my free patterns were efforts to learn to design and do not conform to industry standards for sizing or terminology. Enough people continue to knit from these designs that I am happy to leave these patterns up for people to use but I cannot offer any amendments or substantial support for them.
As with all my patterns, you are welcome to use these patterns for your own personal, non-commercial or charitable use. If you wish to sell items made from these patterns or teach classes using my patterns, please contact me. Please do not distribute this pattern in print or electronically or post this pattern to your own site or publication. If you wish to share this pattern, please send the person a link to my site.