Copyright Marnie MacLean 2004
Click on Images for Larger View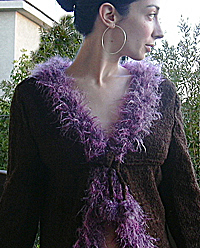 When I think of Valentine's Day, I almost always think of chocolate and pink, in that order. Fuzzy Valentine is all that and love to boot. Tryst is made with silk and Marino wool which is warm, soft and decadent. Starry Night is thick, plush and soft with glints of shimmer. Combined, the yarns work up into a piece that nearly hugs you. This pattern is offered in chart form. While this may seem intimidating if you've never worked from a chart, I think you'll find it easier in the long run, as you get a visual idea of what the piece will look like. Further, it allows you the option to work up the jacket in separate piece or as on whole, in the round.
Gauge:
Tryste: 23 Stitches x 30 rows =4" in STst
Supplies:
#6 & #7 Circular needles at least 30" long
450 grams (9 skeins) of Tryst in Chocolate Brown or color of choice
250 grams (5 skeins) of Starry Night in pink or color of choice
G crochet hook
2 large covered hook and eye
Pom Pom tool (optional)
Yarn substitution
Tryste is a wool/silk blend boucle yarn, in a light worsted/heavy sport weight. Almost any light worsted weight yarn will make a fine substitution, though I highly recommend one with at least some elastic or wool content.
Starry night is a thick eyelash yarn with some sparkle. Any substitute eyelash yarn should be quite dense or be doubled to achieve a similar effect.
Stitches used:
Stockinette Stitch (STst)
Garter Stitch
Single Crochet (SC)
Body
This pattern is offered in 4 sizes. Please download the chart in the size that suits you best.
All Tryst areas are worked on #7 needles in STst
All Starry Night areas are worked on #6 needles in GARTER Stitch
Marnie: (Bust: 36 | Waist: 26 | Hip: 36, very long arms)
download Body chart (PDF)
Download sleeve chart (PDF)
Small: (Bust: 35 | Waist: 30 | Hip: 37)
download Body chart (PDF)
Download sleeve chart (PDF)
Medium: (Bust: 39 | Waist: 33.5 | Hip: 41)
download Body chart (PDF)
Download sleeve chart (PDF)
Large: (Bust: 43 | Waist: 37.5 | Hip: 44)
download Body chart (PDF)
Download sleeve chart (PDF)
Assembly
Sew all pieces together, attaching front panels to the back at sides and shoulders, then sewing in sleeves. Make sure you reinforce the sleeve and should seams so they do not sag.
Collar
With size 6 circular needles and Starry Night yarn, pickup 3 stitches for every 4 rows along entire front and neckline, including hem. Place a stitch marker at the point where you began the neckline decreases on each side of the front.
Rows 1-18: Work garter stitch inc on stitch on neckline side of both markers.
Bind off.
Closure
Attach hook and eye right below neckline, fluffing up yarn to hide any bits that show. If you prefer more modesty in your coat, you can attach additional hook and eye down the front of the jacket.

With tryst, crochet a chain about 12" longer than the circumference of your ribcage. Chain 1 and turn. SC across for two rows. Cut yarn and tie off.
Sew tie onto jacket so it falls right below your chest. Make 2 pom poms from Starry Night (optional) and attached to ends of ties.
Thank you so much for your interest in my patterns. Most of my free patterns were efforts to learn to design and do not conform to industry standards for sizing or terminology. Enough people continue to knit from these designs that I am happy to leave these patterns up for people to use but I cannot offer any amendments or substantial support for them.
As with all my patterns, you are welcome to use these patterns for your own personal, non-commercial or charitable use. If you wish to sell items made from these patterns or teach classes using my patterns, please contact me. Please do not distribute this pattern in print or electronically or post this pattern to your own site or publication. If you wish to share this pattern, please send the person a link to my site.