Marnie MacLean Designs: Patterns:
Fun Flapper Hat
Fun Flapper Hat
Return To Patterns
Back
Copyright Marnie MacLean 2003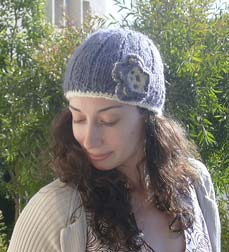 Click on Images for Larger View
Designed by Marnie MacLean especially for ArtFibers inSan Francisco
This is an easy hat that can be completed in a weekend if you have a little free time. Worked in Sage it's warm and soft and appropriate even for children. Pair with a pretty dress for a great retro look, or wear it skiing and bring your own style to the slopes. Don't be surprised if you get a yen for The Great Gatsby and the Charleston.
Gauge:
14st x 20 rows = 4"
Supplies:
#10.5 Straight or Circular needles
Size H Crochet Hook
60 grams of Sage in main color of choice
Small amount of Sage in complimentary color of choice
Tapestry needle
Yarn substitution
Sage is a lovely merino thick and thin single ply yarn. A great substitute would be Manos Del Uruguay. However, any bulky yarn that achieves gauge should be fine.
Stitches used:
Knit
Crochet
Chain (CH)
Single Crochet (SC)
Half Double Crochet (HDC)
Double Crochet (DC)
Triple Crochet (TRC)
Hat
Pattern written for size adult small. Children's Medium and Adult Large in parenthesis.
CO 72 (62, 82)
Work 1 x 1 rib for 4 rows
[ K3, P1, *K4, P1* to end turn
K the K and P the P to end ]
Repeat from [ to ] for 22 (17, 27) rows
Decrease: (starting on Right Side)
Row 1: K2, P2tog, *K3, P2tog* to end
Rows 2, 4, 6: K the K and P the P
Row 3: K1, P2tog, *K2, P2tog* to end
Row 5: P2tog, *K1, P2tog* to end
Row 7: *K2tog* across
Row 8: *P2tog* across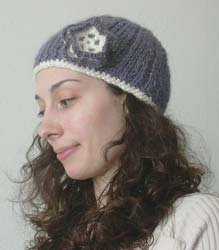 Finish:
Do not Bind Off - cut a long tail (about 18")
With tapestry needles run yarn through remaining stitches and pull tight, removing the stitches from the knitting needles.
Sew the hat seam closed using an invisible seam.
Hem:
Using Crochet hook and complimentary color, LOOSLY sc 72 st around hem of hat. Close with sl st to first sc.
Ch 1, sc in same st, sc in each sc around. Close with sl st to first sc.
Weave in ends
Flower:
Ch4, join with sl
Ch6 (counts as dc + ch3)
*Dc in ch, ch3* 3 times, sl in 3rd ch of original ch6 (5 loops)
Sc in same st, in first ch 3 space *hdc, dc, trc, dc, hdc sc in next dc* Repeat from * to * 4 more times
The second row of petals is worked BEHIND the first row we just completed.
*Ch5, sc around the post of next dc from second row of first flower* 4 times, ch5 and sl st to base of first ch5.
In each Ch5 space work *sc, hdc, dc, 3trc, dc, hdc, sc* ending with a sl in first sc.
Cut yarn and pull through last stitch to finish.
With main color, sc around the edge of both rows of petals working 3 sc in each center-most trc
Cut yarn and pull through last stitch to finish.
Weave in ends.
Sew flower to hat so that it is slightly off center and low to the hem.