Copyright Marnie Maclean 2004
Click on Images for Larger View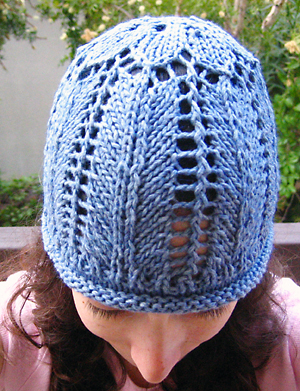 Inspired by a motif from A Gathering of Lace the Halley's Comet Hat makes one think of a bursting light with a trail behind it. Halley's is the most well known of the comets and has been inspiring humans since at least 240 BC.
From the front, the eyelets and decreases are neither fussy nor overwhelming. It's a perfect hat for people who generally find hats too warm, but who get a bit cold without something on their head. A bit of ribbing before the hem keeps the roll under control. This hem draws interest to the eyes. It's a great feature for people with oval faces, breaking up the length and adding a little width for balance.
While complex in appearance, there are really only 19 rounds for the center motif while the rest of the hat is worked in a simple two round repeat. I do not suggest trying to adapt this to be worked flat, this hat is best worked in round. Blocking allows this hat to fit a myriad of sizes, so this pattern is only written for size S/M and L/XL. I would be surprised if many women could wear a hat as large as the larger version. If you want to downside the hat, I highly recommend doing so by working at a smaller gauge.
Gauge:
18.5 stitches = 4" in lace stitch
Supplies:
1 50g skein of Paco yarn in color of choice (Spin: smooth twist | Fiber: Superfine Alpaca 35%, Pima Cotton 65%)
5 US #9 DPNs
4 Stitch Markers
Tapestry needle
Yarn substitution
Paco is a worsted weight cotton/alpaca blend. Any worsted weight yarn for which you are able to obtain gauge, should work well.
Stitches used:
STst
1 x 1 rib
Right and left Decreases
YO
Double Decreases
Double Increases
Hat
Directions given for size S/M [L/XL]
Dimensions:
S/M 7.75" tall x 9.5" wide
L/XL 8.5" tall x 11" wide
Cast on 8 [8] stitches.
Distribute evenly over 4 double pointed needles.
| | | |
| --- | --- | --- |
| Chart for S/M hat | | Chart for L/XL hat |
| | | |
Using the charts provided (click on either to download a printable PDF) work thelace pattern 8 times per round.
One note about row 6, you should work the K, P, K into the double YO. Do this by unwindign the double YO so that it is one long loop and work your knit, purl and knit into it.
Repeat rounds 19 and 20 [21 and 22] until the hat is 6.75" [7.5"] from the cast on or until it is 1" shy of desired total length.
Work 2 [2] rounds of 1x1 ribbing
Work 8 [8] rounds of STst for rolled hem.
BO
Finishing
You should only have 2 tails to weave in.
Like most lace items, this piece will look best if you block it.
Thank you so much for your interest in my patterns. Most of my free patterns were efforts to learn to design and do not conform to industry standards for sizing or terminology. Enough people continue to knit from these designs that I am happy to leave these patterns up for people to use but I cannot offer any amendments or substantial support for them.
As with all my patterns, you are welcome to use these patterns for your own personal, non-commercial or charitable use. If you wish to sell items made from these patterns or teach classes using my patterns, please contact me. Please do not distribute this pattern in print or electronically or post this pattern to your own site or publication. If you wish to share this pattern, please send the person a link to my site.